Perfect Ponytails for Spring
Flowers aren't the only things that are blossoming this Summer, it's a new season and it's time for new summer hairstyle trends to bloom.
Trying to figure out your next hairstyle can be a daunting task. You probably feel like you've done every twist out, every sew in style, frontal look, and you've grown tired of closures. The protective style ideas are running out and you're ready to switch up your look but have no clue where to start. The summer time is the time for all things to flourish, including your hair. Leave behind your go-to protective styles and add some flair to your everyday look. With the constant changes in the weather, this means that you have to start being more protective and cautious with your hair choices.
Check out a few fun summer hairstyles that you can achieve using True Glory bundles.
A Sleek and Chic Look with a Low Ponytail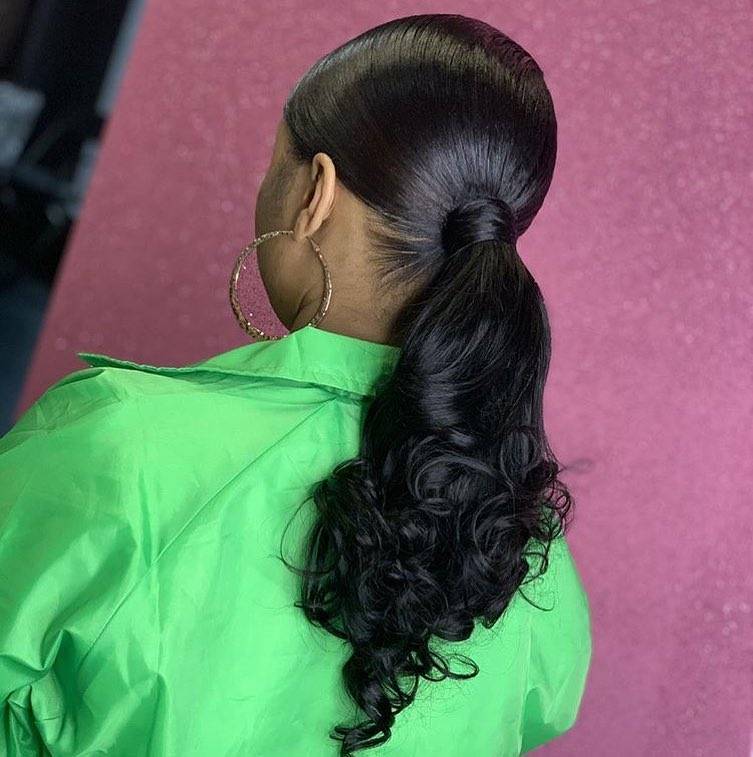 The beauty in ponytails is that they can be as versatile as you'd like, you can switch it up at a moment's notice. This first ponytail recommendation is a classic look that keeps reinventing itself. A low, sleek ponytail is classic and timeless and adds a chic element to your everyday look. Whether you're going out to a brunch with your girls or needing a quick do for the work week, this is a summer hairstyle that will serve for every occasion. You see many celebrities rocking a low ponytail whether it's on a red carpet or they're just out with family and friends. This hairstyle also compliments any outfit you wear, you can dress it up or dress it down.
This summer hairstyle can be achieved with a middle part or a side part, it just depends on your style. You don't have to be a professional hairstylist to achieve this look, you just need patience and a bundle (or two) of True Glory Brazillian Body Wave. Since this ponytail sits lower on your hair than usual, it's crucial to make sure that before you begin to add your bundles that your hair is laid down to perfection, avoid lumps as much as possible; You can even place your hair in a low bun by putting it in three sections. Once you've secured your low bun begin adding the bundles around the base of your bun. Continue to add hair until you've obtained your desired length and volume. You can even tease out the hair and separate the tresses using a product to create a more voluminous look. Make sure to lay the hair down using a scarf and don't forget to lay your edges and baby hairs. Add some artwork to your finished look by decorating the front of your hair with silver or gold bobby pins.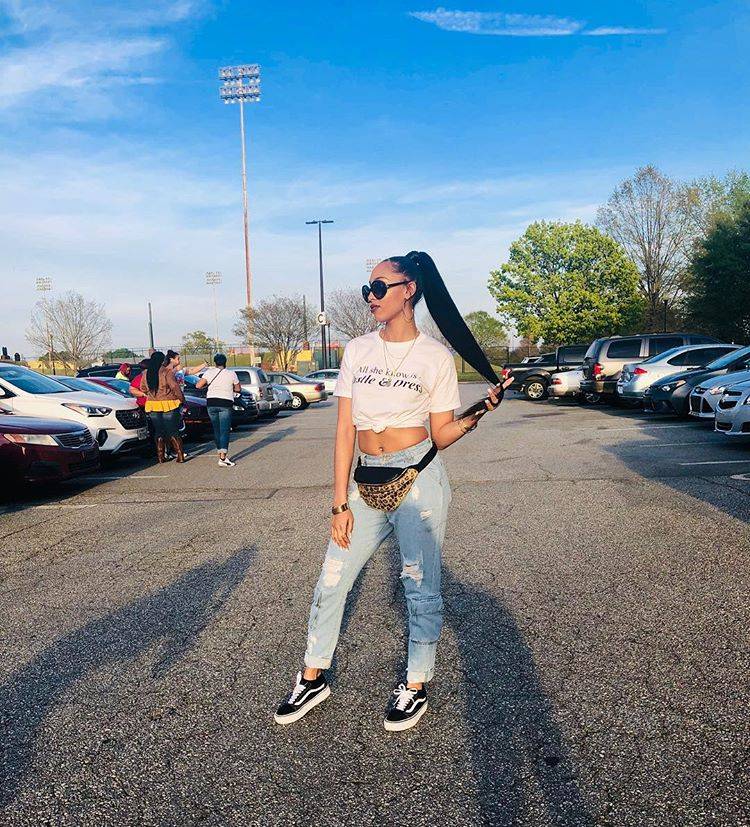 Sometimes, simplicity really is key. One of the biggest summer hairstyle trends is a high ponytail, whether you're going for an Ariana Grande inspired look or just want to have a simple style for a night out, this is a go-to ponytail. The high ponytail has become a trendy summer hairstyle for black women especially because of the versatility for all hair types. The high ponytail can be achieved by using bundles of Brazillian Straight hair. The straight hair allows for a neat look even when you've had the style for a few days. You can switch it up and put the hair in a jumbo braid or accessorize it using gold clips and gold hair wraps. Make sure to give it a sleek look by laying your edges as a finishing touch.
Achieve this look by taking your hair and creating a small ponytail at the crown of your head, make sure the ponytail is a small size to avoid any lumps when adding in your bundles for the final look. Begin by taking your wefts and wrapping them around your ponytail, one by one. Bobby pin as you go to hold the bundles in place and make sure the hair is placed neatly with each wrap around. Keep wrapping the hair around until you have your desired thickness for this style and remember to wrap each weft as tightly as possible to keep your hair concealed underneath. Once you've achieved the volume and thickness that you like, take a few strands from the back of the ponytail and wrap them around the base to bump the ponytail up a bit more.
The beauty in a simple high ponytail is that it's easy to switch up without having to take anything down. You can even try a new look with a half up and half down look using the same high ponytail method, this style gives you the best of both worlds and is a perfect playful look for summer.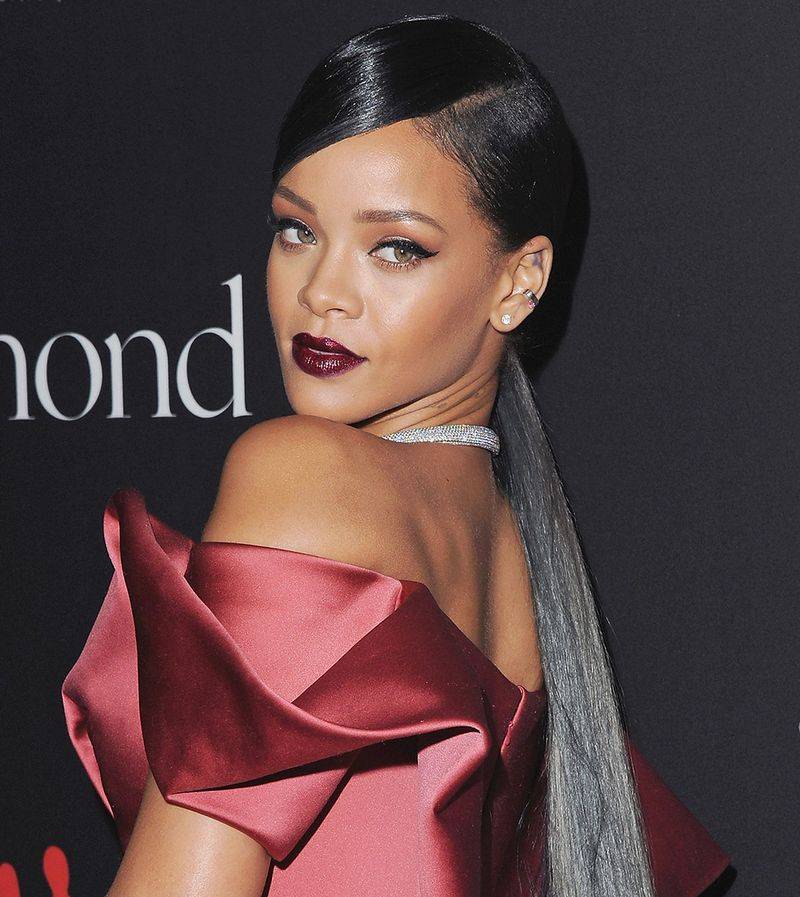 Continue to kick the winter blues away and summer into action with this trendy summer hairstyle. This is a look that's both Oscars red carpet worthy as well as a look for a night out with your girls. If you want to keep a low ponytail but give it some sophistication then this is the style for you. The deep side part ponytail is a fun yet bold look. Swoops are definitely back in style and with the added effect of a neatly placed ponytail, your hair will be the topic of conversation everywhere you go. You can achieve this look with the Brazillian Body Wave or Brazillian Straight Hair, it all depends on your preferred ponytail look.
While this is a fun look to create, it is one that will take the most time and use a few more tools and steps than other ponytail styles. The goal is to slay, right? And you want to make sure that your deep part is perfected and will last you for however long you want to keep the style. Before starting with putting your hair in a bun or ponytail, you want to set up your hair to style the side part. Begin by flat ironing your hair (low heat preferred) and creating a deep side part at the top once your hair is straightened. Now, you don't have to create a silk press look when flat ironing your hair, it just needs to be straight enough for the parted hair to lay down nice and neat. Once you've placed the deep side part in your hair, clip it in place and make sure your edges are combed in place and laid down. Add some setting spray to the deep side part and pull it back into a ponytail, be sure to make sure that the front section is blending with the back of your hair. To make sure that your hair stays in place and the parted section lays down neatly, use wrapping paper or a scarf to hold it down while you install the ponytail. Once your hair is placed in a ponytail, begin wrapping your bundles around the base until you've achieved your desired length and volume for this style. Once your bundles are secured neatly with bobby pins, remove the wrapping paper or scarf to reveal the full hairstyle.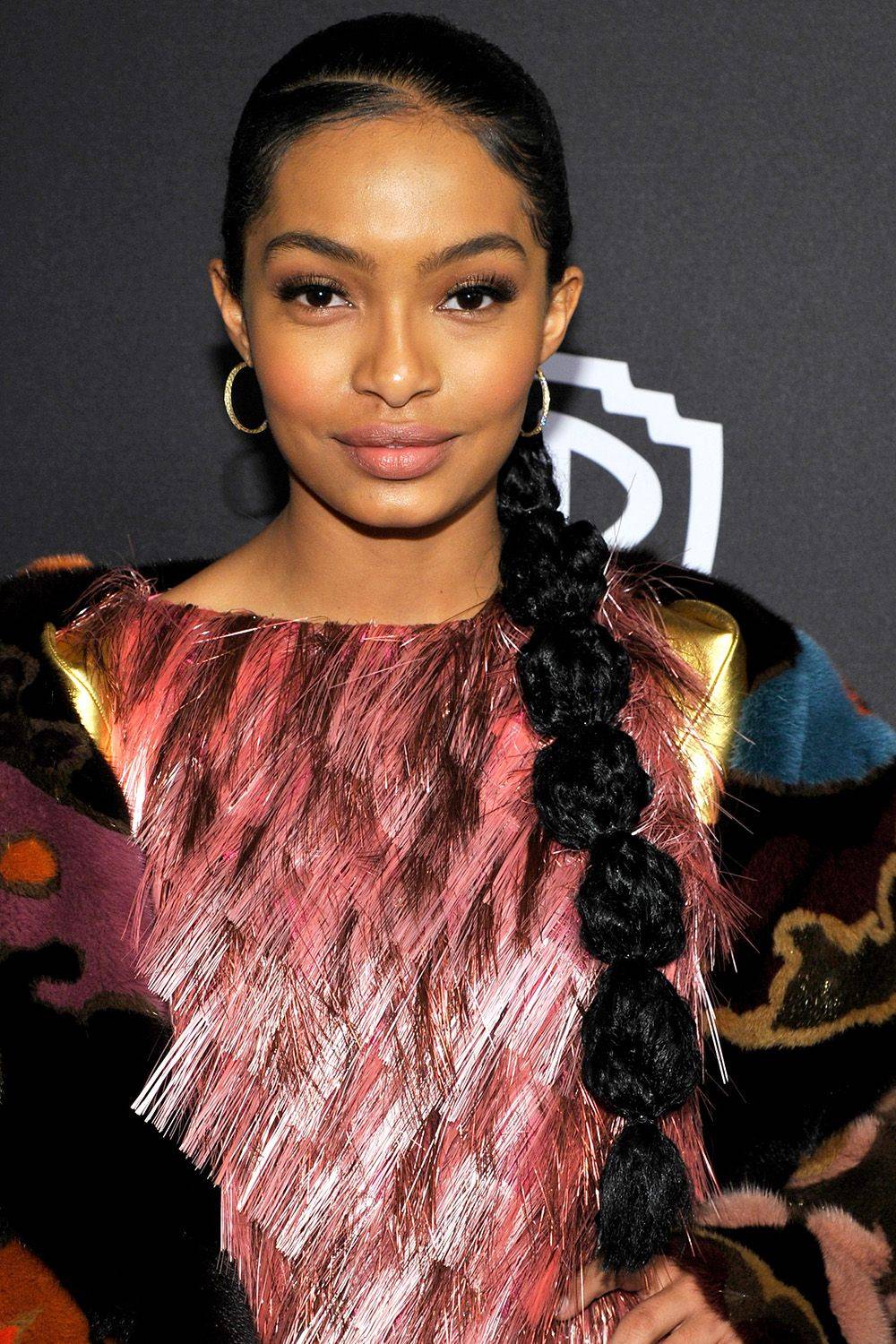 If you've grown tired of putting your ponytail to the back or no longer want to rock a low ponytail then this is the way to go. Take your hairstyle back to childhood days and have some fun with it. A bubble ponytail is fun and trendy for the summer. The bubble ponytail is simple yet stylish and creative and will have everyone asking for a tutorial on how to achieve the look. Since this ponytail is simply a twist on the classic ponytail, the way you style is slightly the same when it comes to the set up, once you need to make the "bubbles" in the ponytail, it's important to take your time and pay close attention to the details so that you're not having to constantly start over.
To achieve this bubble ponytail look you can use bundles of Brazillian Straight to make the hair easy to manipulate. You can place your hair in a high or low ponytail, it's completely up to you. Some women even prefer to switch it up and wear the ponytail to the side. Once the ponytail is set up and your hair is laid down, begin adding your bundles to achieve your desired length and volume. Take a scrunchie or some type of hair tie and slide it up about an inch from the base of the ponytail, easy right? Continue to do that until you've reached the end of the ponytail, the amount of "bubbles" in your ponytail is completely up to you. The last step is to simply fluff each section of the ponytail to your liking and make sure your edges are laid to perfection and you're all set to have some fun in the sun with this trendy summer hairstyle.
Ponytail with an Undercut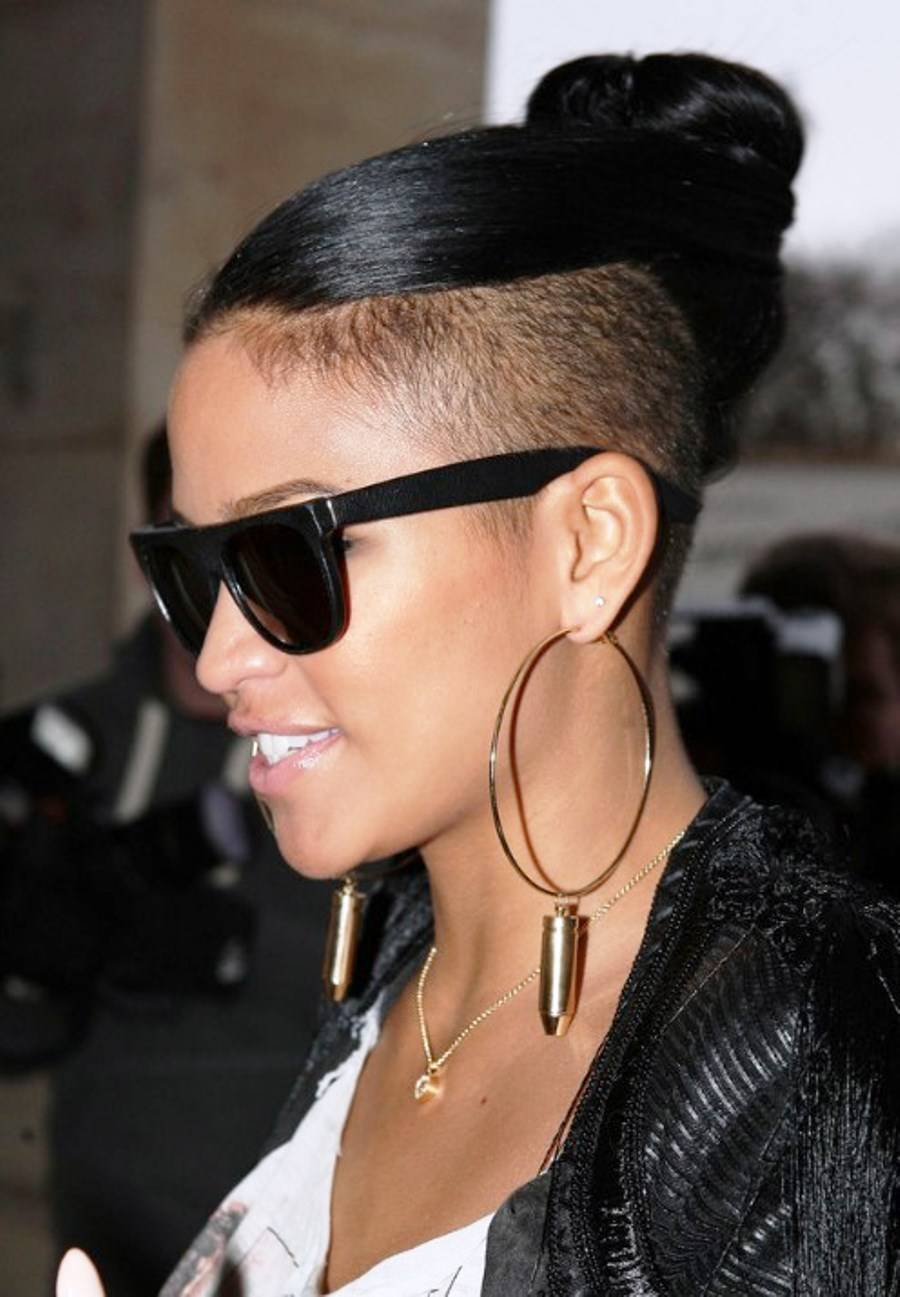 Quick Tips Before Starting Your Ponytail:
Keeping your hair healthy is always key when styling and wearing ponytails is no different. Before getting into your styles, be sure to thoroughly wash and comb through your hair. Take a few minutes to deep condition and make sure the hair is completely clean before adding your products to style.
Some stylists recommend blow drying your hair in order to achieve the best results. Avoid using direct heat from tools like flat irons but the blow-dried look will stretch your hair and make it easier to grip and place in ponytails before adding your bundles. Unless a style absolutely requires for your hair to be straightened, avoid using direct heat at all costs, most ponytail styles are created for all hair types so manipulation isn't necessary.
Even though perfection is a myth, you can get close to perfection by perfectly placing your bun or ponytail before adding your bundles. By placing your bun in the perfect position on your head, this allows for your ponytail to not be lopsided or sitting in a random spot on your head.
Brush your hair thoroughly. In order to make sure your hair blends perfectly with the bundles, you want to get it as sleek as possible. Regardless of your hair type, brushing it with the necessary products will ensure that you achieve your desired look.
Ponytails are no longer for gym days or a lazy look, they're giving more flair and sophistication to your everyday look. Whether you're getting ready for a date night or stepping out with your girls, these ponytail looks are perfect for the summer weather.
To achieve the ponytail looks you will need a few styling products and tools such as our Brazilian Straight styling gel, conditioner, beeswax, brush, comb, hair scrunchies, and bobby pins. Any additional products are up to you and based on the look you want to achieve.
Be sure to maintain your bundle extensions with the proper care in order to keep your hairstyle looking polished for as long as possible.

Photocredit: @tiffany2prettystylist