Braided hairstyles will always be your go-to if you are looking for protective hairstyles. They're one of the most popular hairstyles for black women since they allow them to experiment with diverse looks on their natural hair. However, with so many varieties for accomplishing braided ponytail hairstyles, deciding which braided hairstyles are worth trying can be difficult, which is why we have eight easy ways to style braided ponytail hairstyles; that you will fall in love with!
Side Parted Sleek Braided Ponytail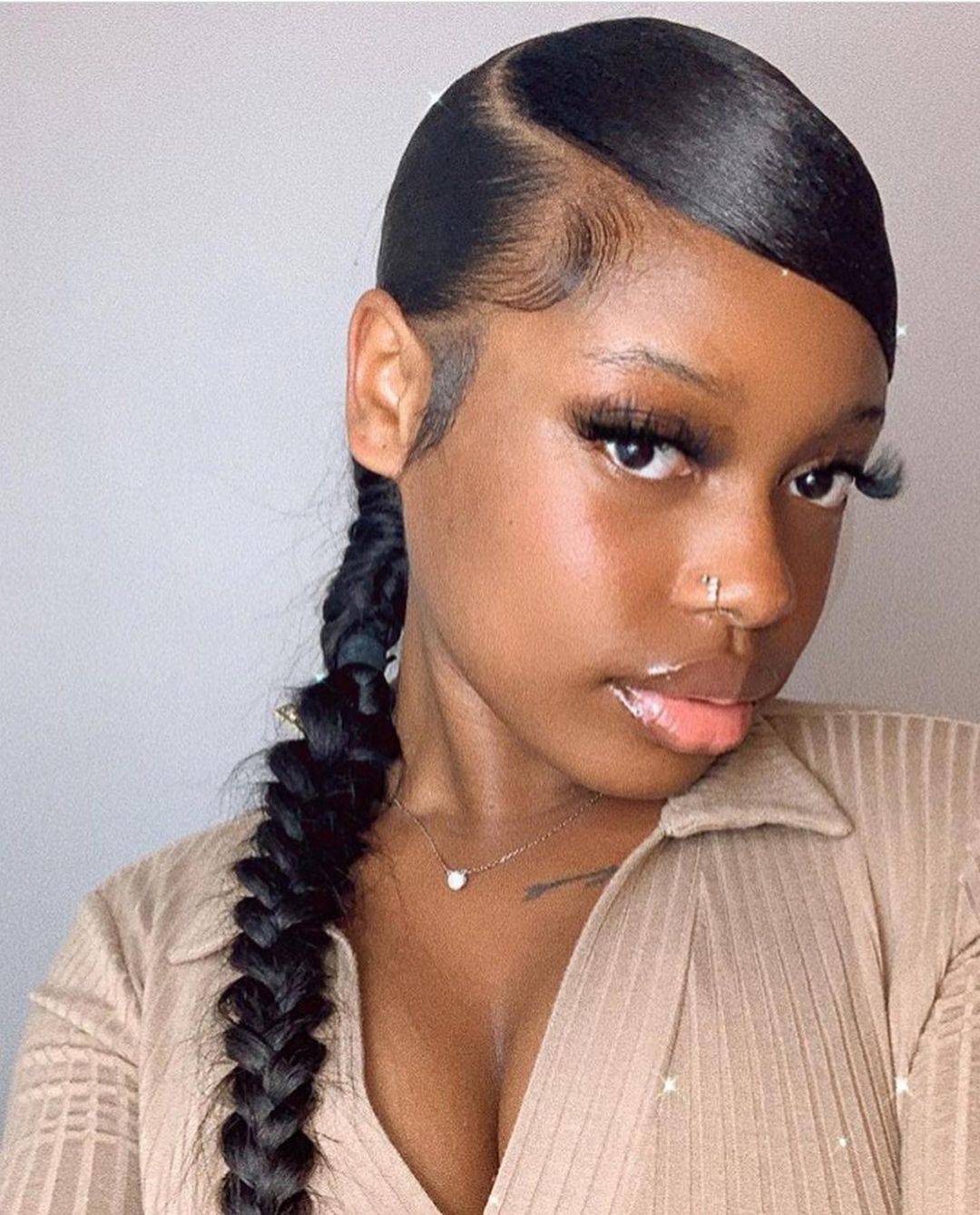 A low side-parted sleek braided ponytail is a great hairstyle option for women of all ages. This beautiful braided hairstyle is perfect for any occasion and super easy to achieve. First, use a ponytail hair extension for short and shoulder-length hair. Then, follow these steps to recreate this stunning hairstyle:
Moisturize your mane with a lightweight hair serum.

Comb your hair and remove tangles

Create a deep side parting using a rat-tail comb. Apply edge control gel to achieve a clean parting.

Gather your hair at the nape and tie it into a low ponytail. Secure the look with a black hair tie.

Wrap and tie your ponytail hair extensions around the base.

Divide and plait a three-strand braid.

Use an elastic band to tie the three-strand braid in place.

Finish the look with a holding spray and look beautiful.
Wavy Knotless Braids In A Ponytail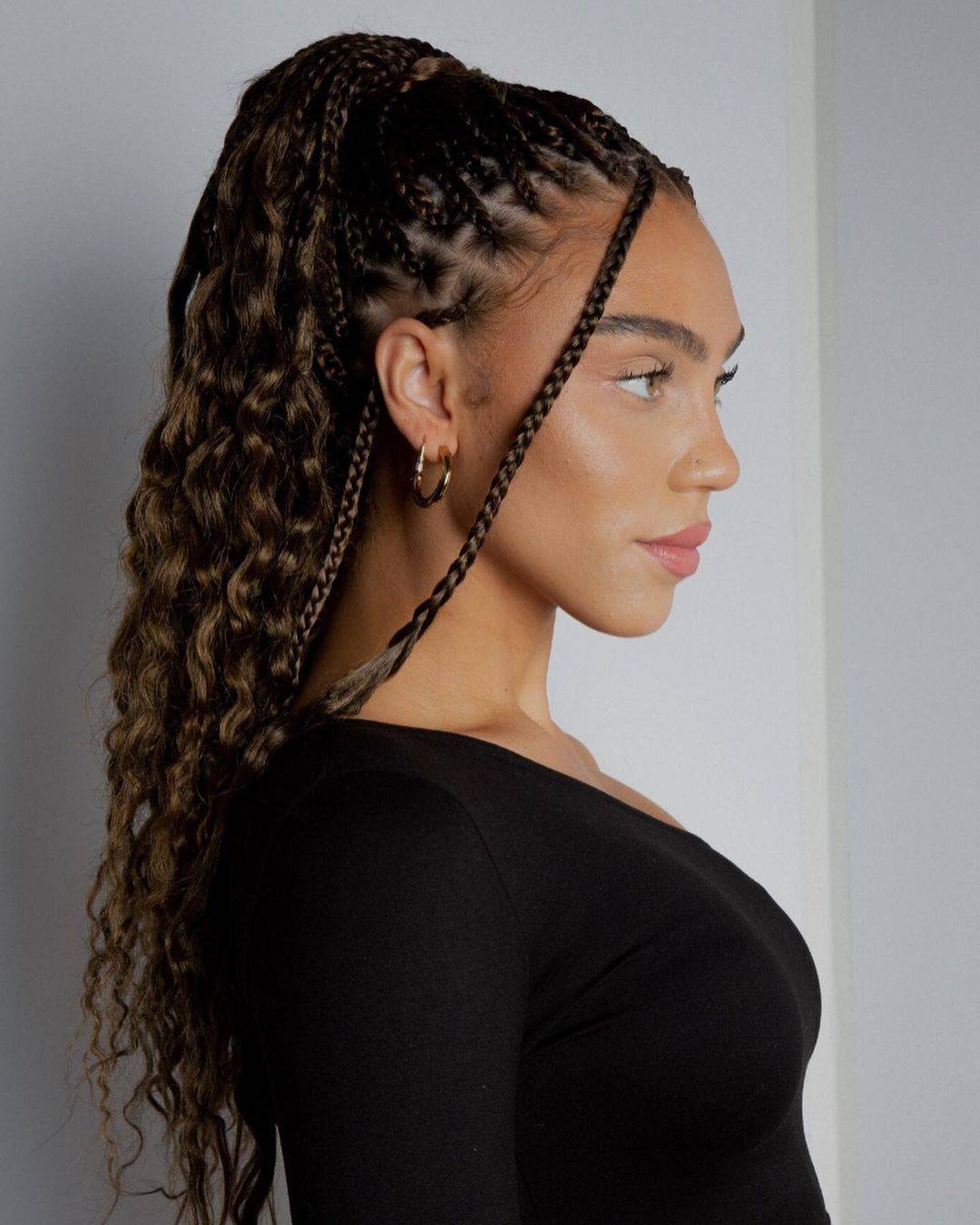 Do you know what knotless braids are? If the answer is no, well, they're installed differently from box braids; they're a wonderful alternative to box braids and produce less scalp tension. Tie your knotless braids in a high ponytail and leave a section of braids on both sides to frame your face. Achieve waves with loose ends on your knotless braids. This is one of the braided ponytail hairstyles that will make you look beautiful and feel confident.
Long Braided Ponytail Hairstyle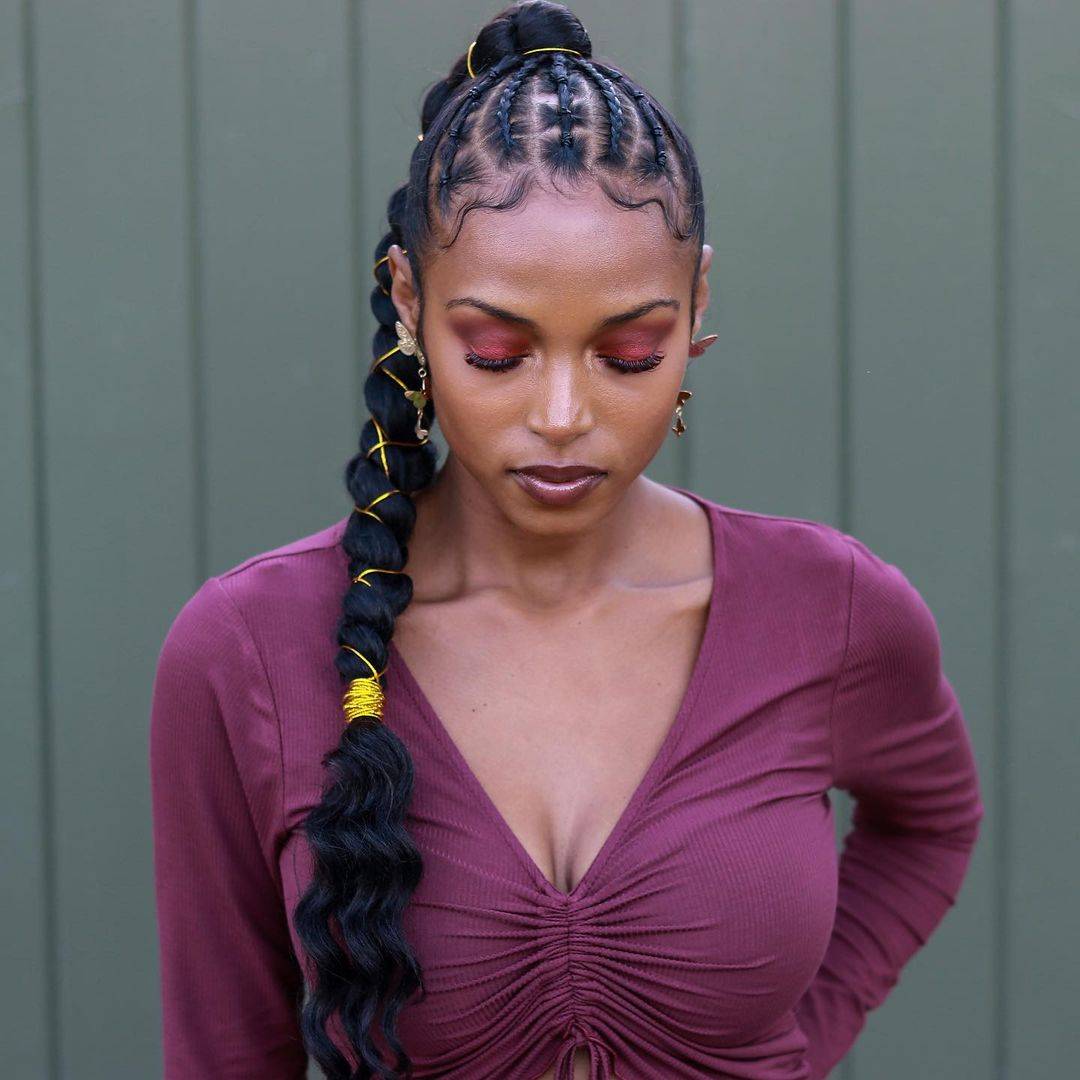 This long ponytail braid is ideal for anyone who wants to channel Rapunzel's lengthy locks. Plait some lovely cornrows in the front to take this style to the next level. Style the edges with mousse and add a pop of color with a long nylon thread. Pair this beautiful hairstyle with dangling earrings and a v-cut top.
Kinky Braids In A Half-Up Ponytail
You can get a trendy look that complements your natural hair texture while also protecting it with kinky braiding hair.
Ponytails are not just the simplest hairstyle ever, but leaving a few sections of hair loose on the sides, will give you a serious '90s fashion edge. It is an easy hairstyle that you can achieve in no time.
First, gather and tie the top half into a half-up ponytail and secure it with a hair tie. Then, go the extra mile and wrap a satin ribbon around the hair tie.
Styling Tip: Keep a few strands on the sides to frame your face. This is a fantastic hairstyle for any occasion and any time of the day.
Albaso Braids In A Half-Up, Half-Down Hairstyle

Are you on the hunt for an intricate braided ponytail hairstyle? If that's the case, the Albaso braids are the perfect choice for you. This hairstyle is a real head-turner that will make everyone envious. Follow these steps to recreate this beautiful braided hairstyle:
Blow out your hair and brush it backward.

Divide your hair into two from one side of the ear to another with a rat-tail comb.

Tie the bottom section away, comb the top section to begin plaiting it.

Create three sections (left, center, and right). Clip the sides away and place a braided hair extension piece in the middle section and do a French braid over the extension.

Take the French plait over the extension and secure it at the bottom end of the braided hair extension.

Create two small cornrows on each side of the center braid.

Use a braided hair extension piece for the left and right section and a small cornrow on the sides.

Gather the braided sections and tie them into a half cup. Use a texturizing spray to achieve a voluminous half-up ponytail.
You can also try the double Dutch hairstyle with the Albaso braids to make heads turn. This braiding technique with a double Dutch hairstyle helps accentuate your beautiful curly hair textures.
As mentioned earlier, braided ponytail hairstyles are a go-to for women with natural hair because it helps protect their hair while sporting different looks. Try these eight braided ponytail hairstyles for any occasion and seize the day with your gorgeous looks!